Our commitment to helping the children of the future doesn't stop with our classes. We support the children by supporting the adults in their lives as well. We do this by:
Introducing one of our programs into your school. Once the required enrollment is reached we...
Introduce our proven behavior management system with a FREE workshop for your staff by creator, speaker and author Ron Shuali, M.Ed. Then we...
Provide a school copy of Ron's book and free phone or email coaching for yourstaff.
Lastly, if a child with challenging behaviors continues to disrupt the learning process, Ron will come back to your school and offer support to that child's teachers and parents.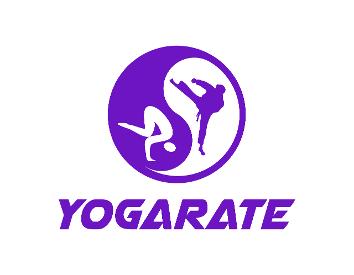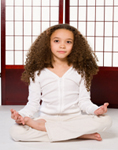 (Pronounced Yoga-Rah-Tay) The children begin with the high energy, body strength building, respect filled martial arts class and flow smoothly into yoga with a few sun salutations followed by an age appropriate calming meditation. The martial arts focused on respect and following rules. The yoga portion teaches belly breathing and when are the good times to take 2 deep breaths (When we are angry, sad or frustrated, just to name a few). The session ends when we invite parents to watch their children demonstrate the sun salutation, break a board with a technique they learned, and receive a well earned medal. NamastAHYAH!
Shua Fun Do*
(The way of breathing and fun)*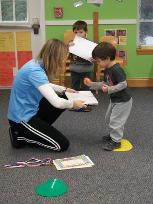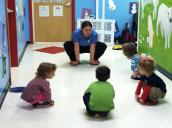 The Shua Fun Do martial arts program is a unique system that teaches through movement and songs as opposed to other systems which spend too much time talking and giving instructions. We do not use uniforms and belts in our system. Like the great Master Bruce Lee, we believe that martial arts is a way of life. Master Lee's students trained in their jeans and street shoes, to simulate the real situations of life when they would have to use their martial arts. The life skill of RESPECT taught in our classes should be taken out into the child's life, not just their classroom. The Shua Fun Do techniqes are based on Japanese Karate, Okinawan Isshinryu and Chinese Kung Fu principles. The session ends with a board breaking and medal ceremony that parents are welcome to come watch.Our belief is that once your child takes our classes, they will have an advantage when you walk in with them to any type of martial arts school in the future. The techniques of different styles are easy to learn. It's the discipline and respect that is the toughest to teach, and for us, the greatest challenge and fun.
Shuaccer
Soccer with age appropriate levels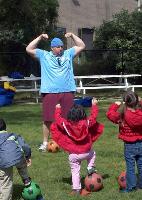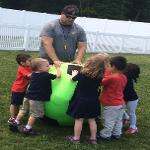 Our unique soccer program has the children learn and enjoy the benefits of working as a team. Every week your children will play a game that shows them how working together as a team is a good life skill to take on. For example, the first week the children are asked to balance on one foot and count the seconds they stay balanced. Then the children place their hands on their friends' shoulders and balance again. As they use their friends to help balance themselves, they learn that working as a team makes things easier.This class will reduce cutting and tattling as well.
The soccer skills learned in the session include trapping, dribbling, passing, stopping, shielding and shooting the ball. In the last class the children demonstrate these skills in an obstacle course which parents are invited to watch. After everyone successfully finishes the course, we surprise the children with a soccer ball as big as them!
Super Sports
(Sports change weekly or monthly)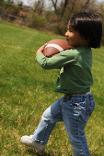 Super Sports is an exciting and educational program of sports, life skills and fitness designed specifically for the young child. Classes help students develop their large motor skills and coordination, while improving their posture and creating an early desire to become physically active and love moving their bodies. The life skill of leadership is taught as each child gets multiple opportunities to be a class leader. Some children will discover that they enjoy the attention and strength brought out by being a leader. Others may choose otherwise. This class gives them the chance to experience it first.Each class the children are exposed to various age appropriate versions of many popular sports. Sports like soccer, football, basketball, golf, tennis, frisbee, cricket, volleyball, frolf, martial arts and more. When a young child discovers a sport they like, they will most likely continue with it through their growing years. Let your child discover their sport. Let them discover Super Sports.
Download our complete program flyer below
For more information on Ron Shuali, Shua Life Skills creator, national speaker, and author, click on his picture below